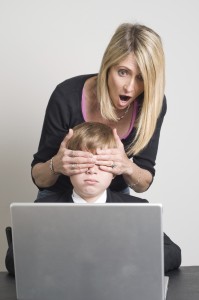 A question which every parent should be asking themselves, "How does my child access the internet?" "With whom is my child engaging?" The array of answers may startle you. So make no assumptions. Why does it matter? Knowing how your child accesses the internet and with whom they are engaging are the first steps in crafting an online safety plan for your child.  I have said it before and will repeat, our family is our responsibility.
Do you have a family computer or does everyone have their own computer? Does your family have a gaming system? Perhaps your family has a DVD or TV with internet connection capability? Do your children have smart-phones (iPhone, Blackberry or Android)? Do your children use the library? How about friends, how many of them might have a means to connect to the internet at their disposal (perhaps close to 100%).
In 2005, in a study "Parents Internet Monitoring Study" commissioned by the National Center for Missing and Exploited Children in conjunction with Cox Communications, and conducted by the Ketchum Global Research Network, they found that the family room and bed room were the top two areas where teens accessed the internet from home. They also found that less than half of the respondents that have one computer keep it in the family room, while almost two-thirds of families that have three or more computers have at least one in the bedroom. Not surprisingly, approximately half of the parents do not have, or do not know if they have, software that monitors where their teens go online or with whom they interact. And more than half of the parents were unable to decipher the meanings of several online messaging abbreviations. (Read the entire report here: Parents Internet Monitoring Study – pdf file)
Fast forward to 2010 and we have available a study"Youth Safety on a Living Internet" conducted by the Online Safety and Technology Working Group, which made a few recommendations, which are worthy of highlighting. Parents need to keep up with the social-media research, avoid scare tactics and promote social norms approach to risk prevention, promote digital citizenship, and respect young people's expertise and get them involved in risk-prevention. (Read the entire report here: Youth Safety on a Living Internet – pdf file)
Learn how your child is accessing the internet, learn who they are engaging and keep everyone safe.
Thank you for your time.
 
All the best,
Christopher
 
LINKS:
Our family is our responsibility