There's a new tool in the toolbox of law enforcement and those who are determined to combat the scourge of sex trafficking and the exploitation of minors via child pornography, the TraffickCam.
What is the TraffickCam?
Here's how the TraffickCam team describes themselves:
TraffickCam enables you to help combat sex trafficking by uploading photos of the hotel rooms you stay in when you travel.

Traffickers regularly post photographs of their victims posed in hotel rooms for online advertisements. These photographs are evidence that can be used to find and prosecute the perpetrators of these crimes. In order to use these photos, however, investigators must be able to determine where the photos were taken.

The purpose of TraffickCam is to create a database of hotel room images that an investigator can efficiently search, in order to find other images that were taken in the same location as an image that is part of an investigation.

TraffickCam was created in 2015 by the Exchange Initiative. The Exchange Initiative is committed to combating commercial sexual exploitation of children (CSEC). Their mission is to provide resources, information and networking solutions to combat sex trafficking in the United States.

The Exchange Initiative was created by Nix Conference & Meeting Management to empower individuals and organizations with real resources to help end sex trafficking. Nix Conference & Meeting Management is one of just 13 U.S. companies and 43 worldwide honored as a 2014 Top Member by the internationally recognized Tourism Child-Protection Code of Conduct (TheCode.org) for their exceptional work to integrate child protection practices into their business.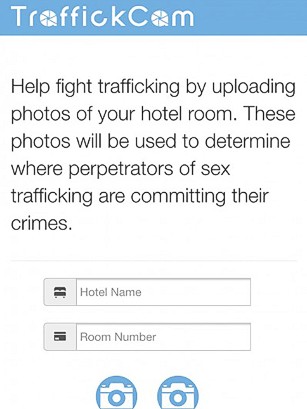 CNN recently described the efforts of the TrakkickCam initiative in their Freedom Project:
CNN: A young girl poses provocatively in a dark hotel room. For a set fee, any willing customer can pay to have sex with her.
For investigators attempting to track down sex traffickers and their victims, these online advertisements can contain critical clues. The smallest of details in a room could give away its location, but there are too many ads for law enforcement to scan each of them for clues.
That's where TraffickCam comes in. It's a simple phone app that uses crowdsourced snapshots of hotel rooms to help law enforcement locate victims and prosecute sex traffickers.
TraffickCam application
Any travelers pit stopping at a hotel can turn on their phone's GPS location and upload photos of the room from four different angles to TraffickCam's database.
The idea is that law enforcement agencies can then check adverts featuring suspected trafficking victims in hotel rooms against TraffickCam's database of photos.

TraffickCam's image analysis tools transform the photos into a number of data points, using features such as patterns on the carpet, paintings on the wall and landmarks out of the window. The various data points in the photos play an important role in matching the location.
"This is an easy way for citizens to take a stand against sex trafficking by simply taking photos," Kimberly Ritter, director for development for Exchange Initiative, tells CNN.
Since launching in June 2016, Ritter says that more than 150,000 hotels have been added to the TraffickCam database. "We have over 100,000 people using the app right now, and we're hoping that more will join us to take action and fight this fight," she says.