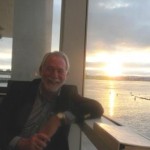 Christopher Burgess (@burgessct) is a writer and speaker on the topics of safety, security, intelligence, privacy and national security.  He also is an advisor, consultant and advocate for effective security strategies, be they at the office or at home. He is the founder and voice of the charity Senior Online Safety.  He is available both as a content contributor or as a keynote/session speaker. Contact him directly to align your need and his availability.
He has deep expertise in intelligence, counterintelligence, competitive intelligence, big data solutions, big data analytics, information security, security, online safety and security, compliance and privacy on a global scale.        
He has held leadership and management positions, most recently as CEO of Prevendra, a security consultancy, and prior to that as Chief Security Officer, President and Chief Operating Officer of a small startup, as well as Senior Security Advisor at a Fortune 50.  Prior to joining the private sector in 2005, he was a senior national security executive (30+ years with the Central Intelligence Agency). In his governmental capacity, he lived and worked in South Asia, Southeast Asia, the Middle East, Central Europe, and Latin America where he acquired understanding of people, cultures, and societies. Christopher is an industry thought leader, addresses threats to intellectual property, the security aspects of social media, security strategy, security education and awareness and prevention of industrial espionage.  He  is the co-author of Secrets Stolen, Fortune Lost: Preventing Intellectual Property Theft and Economic Espionage in the 21st Century.  
He has archive of articles and posting can be found here: Burgess Archive