Labor Day Postage Stamp 1956
Today is Labor Day.  My father's professional career from when he drove a bus in Holyoke, MA in the late 1930's to his ascent to become the number three within the Amalgamated Transit Union in the late 1950's; to his stepping into service of his nation for ~20 years as a labor relations specialist, where in the early 1960's he assisted the Confederation of Turkish Trade Unions (TÜRK-İŞ)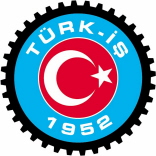 to the eight years he spent in worn-torn Vietnam doing much the same.  I remember traveling with my father as the International Labor Organization invited him to Geneva to speak and Israel to learn about cooperative living.  
My memories of my father don't have a day without his being involved in the global labor movement. And so it is today, on Labor Day that memories of my father and his stories permeate my thoughts.
The stories included, how the first Labor Day was celebrated in 1882, organized by the Knights of Labor and it became a national holiday in 1894 – the math tells us this is the 118th anniversary of the Labor Day holiday

He reminded me Labor Day is celebrated in honor of each and every one of us – the workers.  It is an inclusive celebration.  A remembrance of the efforts and success in bringing to our existence acceptable wages, fair and suitable working conditions, non-discriminatory hiring.
I for one am grateful for those firebrands of the early 20th century who brought about fundamental change and in doing so, brought dignity and respect to all workers.  So today, when you celebrate Labor Day, while it may in fact be the end of summer vacation for the school children, it is a day to reflect on how each and every one of us benefits from the efforts of organized labor.
Thanks Dad, we'll enjoy the day.
Thank you for your time.
Christopher