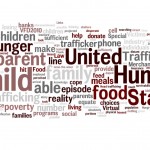 I recently read a piece put out byUpali Wickramasinghe, the Regional Advisor on Poverty Reduction and Food Security (CAPSA-ESCAP) in which it was articulated of the 925 million in this world who live with food insecurity every day, 528 million of them live in the Asia and Pacific regions.  Think about that number it is over 50% of those who deal with hunger on a daily basis.  That is 339 million more than sub-Sahara Africa.  Take India as an example, the country with the largest number of food insecure within their population, a country with a total population of well over a billion people, they will have more than 51.9 million children who are underweight due to malnutrition. The food exists, it's being planted, nurtured and harvested, we lack comprehensive distribution systems to get the food where it is needed the most.
And while we have a global food insecurity problem, exacerbated by the global economic crisis and highlighted by this report.  I find it both surprising and sad, that we in the United States, also weathering a severe economic crisis continue to produce a prodigious of obese individuals within our population, when we should be the poster-child for the globe on nutrition and fitness.  Yet, even with the staggering statistics re obesity in the United States, we continue to have more than 48 million individuals (out of our 300+ million population) who are food insecure.  Here's a great interactive map of food insecurity at the local leve
l within the United States from Feeding America –
Interactive Food Insecurity Map
Thought I am quite able to rant, rave, and shout on what we need to do to fix this problem, until we WANT to solve it, we won't solve it.  In the interim, within the United State our best bet right now is to create jobs, support the local food banks and national organizations addressing the food insecure.
Globally, we can invest in one and other, support organizations which are trying to promote more streamlined logistics and supply chains to get food from where it is produced to where it is needed.
Food insecurity makes all insecure, we need to address this today.