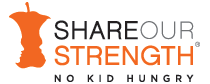 You've heard me say before that hunger in today's day and age should be declared illegal (see Hunger Should be Illegal).  How can we in good conscience allow families in the United States to go hungry?  How can we allow children in the United States go hungry?  I came across some statistics recently that accentuated this situation. According to Feeding America, "nearly 17 million children in America—that's almost one in four—face hunger. And it's likely that these children will endure lifelong consequences as a result of having limited access to nutritious foods. In fact, they're more likely to suffer:
Weaker immune systems
More stomach-aches
Headaches
Colds
Ear infections
Fatigue
More hospitalizations
Behavioral difficulties
Impaired performance in school-academically, athletically and socially
A whole host of other lifelong consequences"
But perhaps we need to hear from others.   Let's start with the good folks at Feeding America's Tampa Bay affiliate which created a Public Service Announcement addressing the child hunger situation in the Tampa Bay area.  You can visit the good folks at Tampa Bay's Feeding America.  Take a moment and view the PSA.
(Link for PSA)    So please take a few more moments and visit Feeding America and donate or better yet, search out your local food banks and give your time, funds, or your time.  I assure you all will be well received.
On Twitter?  Follow: Feeding America and Tampa Bay's Feeding America