Remember September 11. Make a Difference! Take Action! Fight Hunger!
September 11, 2010
No Comments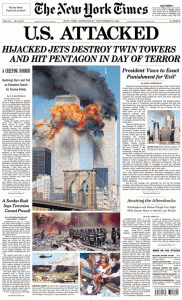 The memory of the tragic loss of life which occurred on September 11, 2001 will be forever etched in our minds. No matter where we were or what we were doing we all remember the moment when we realized that the magnitude of the events unfolding before our eyes.
Those who perished that day at the Pentagon, at the World Trade Towers in New York or in the field in Pennsylvania must know they have not, nor will they ever be forgotten. For those who perpetrated this act of terror, you will be forever hunted. For those of who remain, we must continue living and contributing to our collective society. It is exactly what those who perished would have wanted. If we don't and choose to isolate ourselves, the terrorists will have achieved their goals. I urge you to choose a cause(s), get active and be an activist.
I choose to address hunger in the United States. September is Hunger Action Month. I urge you to join me in raising money for Feeding America. Once again, the good folks at Libby's Foods have provided a dollar for dollar match to this campaign..
Our goal in 2010 is to provide 35,000 meals (In 2009 our donations provided approximately 60,000 meals). Please join me by donating $1 or $500 - every dollar helps, every dollar provides 7 meals, every dollar feeds a family.
Thank you for your time.
All the best,
Christopher
Tags: donations, food drive, human rights, hunger, libby
Hunger